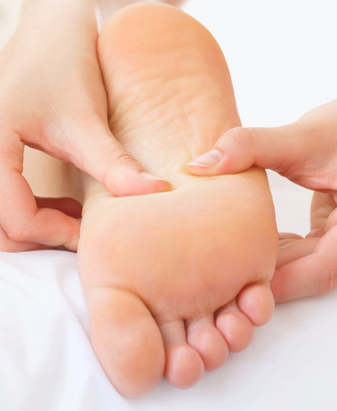 Reflexology is a form of Complementary Medicine and can relieve a number of conditions. In the feet there are reflex areas corresponding to internal organs. The aim is to find an area of the body that is out of balance. The Practitioner will explore by examining touching and probing with thumbs and forefinger to find sensitive reflexes or feel a change in texture such as crystal deposits which may indicate an imbalance in that zone. This procedure assists in removing blockages and as a result stimulates the body's healing. Reflexology may be used to treat infertility.
Aromatherapy
Aromatherapy is a therapeutic treatment with the use of essential oils. Each Essential Oil used has been extracted from different parts of plants, which have therapeutic properties.
A variety of Essential oils can be utilised, oils that may have anti-inflammatory and analgesic properties to help reduce inflammation and relieve pain. Specific essential oils are chosen to suit the condition and blended with suitable carrier oil. Aromatherapy may relieve a number of complaints:
Skin conditions may improve including Acne, Eczema, and Psoriasis, Muscular aches and Pains.
Holistic Facial
A relaxing facial treatment to sooth and rejuvenate the skin using Aromatherapy can result in a radiant complexion.
Hot Stone Therapy
This treatment involves utilising heated or chilled basalt stones to specific points on the body. Heat Therapy may reduce pain and ease stiff joints. It may induce feelings of relaxation and helps to de-stress. Chilled stones may help to reduce inflammation.
Rehabilitation Pain Management
Therapeutic Massage and rehabilitation service can help you get back on track. Massage assists in the process of improving muscle tone and helping to prevent fatigue and muscular atrophy. Helps' the body repair itself after injury or surgery. Relaxes muscle spasms relieves tension. Increase's sense of mobility and well being.
Indian Head Massage
Indian Head Massage is a most soothing and relaxing treatment A complete treatment, including upper back, shoulders, arms, neck, scalp and face, which may be highly beneficial in reducing stress.
Corporate Work
In the United Kingdom, work related stress costs the UK industry approximately £3.5 Billion a year. Research shows that complementary therapies may help to make employees more focused, productive and efficient and helps to reduce stress and sickness levels, promoting health and well being of the Work force. During that time, we will provide your employees with stress relieving treatments in convenient 15 to 30 minute sessions.
Reflexology For Childhood Common Ailment's and Complaints
Infantile Colic, Glue Ear, Constipation, Enuresis, ADHD, Eczema, Asthma, Sinusitis, Throat Infections, Psoriasis. I have treated many children with a variety of conditions. Glue Ear in particularly can be very unpleasant and painful resulting in hearing loss and re-occurring ear infections. Sometimes the insertion of grommets doesn't always work. Reflexology may be effective.
Complementary Health Evenings – A Girls Night In With a Difference
An ideal way to spend some quality time with friends.The host of the evening (Treatment Free) Treatments available: Reflexology, Aromatherapy, Hot Stone Therapy, Indian Head Massage, Holistic Facial.
Our Company is based on the belief that our client's/ patient's needs are the utmost importance. As a result a high percentage of our business is from repeat client's and GP referrals. We would welcome the opportunity to earn your trust and deliver a dedicated service.