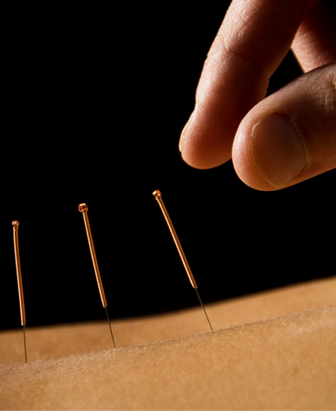 Irritable Bowel Syndrome
I have suffered with IBS for over 15 years. I arranged an appointment with Ann for Acupuncture. I have tried everything nothing seemed to work chronic constipation I have an underactive thyroid also feeling exhausted all the time. After the first treatment I began to have regular bowel movements, the pain I was experiencing had completely gone. My bloated stomach was flat once again. My energy levels also increased. I haven't had a problem since. I must say my overall health has improved. I certainly would recommend acupuncture for IBS.I can't thank Ann enough for helping me with a problem that has gone on for years, I just wish I would have tried acupuncture sooner.
E.B, Childwall
Sturge Weber Syndrome
Ann Gilbertson has been my sister's Practitioner for the past 8 years. My sister Mary suffers from Sturge Weber Syndrome and is physically handicapped. Mary is unable to move unaided and is peg fed .Ann treats Mary twice per week and the Acupuncture sessions are extremely beneficial. Mary has suffered with acute constipation and severe retention of phlegm causing her distress and pain. Since Ann has provided a programme designed especially for my sister, the results have been outstanding. Mary now enjoys a more comfortable existence, brought about through her Acupuncture treatments with Ann.
P.B, Somerset
Back Pain/Sciatica
I wanted to say a huge thank you to Ann. After a few sessions of Acupuncture my back pain/ sciatica has completely gone!I was suffering with chronic back pain and sciatica. I was made welcome in a warm, relaxing environment with a thorough consultation. Initially I was in a lot of pain; along with the pain relief I found that I was sleeping better and generally felt well and my energy levels increased. Ann's professional approach put me at ease during the sessions and would highly recommend Ann to others.
M.R, Ormskirk
TMJ (Temporomandibular Joint Disorder)
I have been suffering with TMJ for at least 3 months, pain in my face and jaw, and terrible headaches. It was something I couldn't get away from, I would wake up in the morning and the pain was so intense I had to do something about it visited my dentist who gave me a night guard, it didn't help much and I really didn't like using it.I decided to try Acupuncture. I made an appointment with Ann, who is lovely and puts you at ease straight away. After my first treatment I had a result immediately. The pain started to ease my face and jaw felt so much better. After a further 4 sessions my TMJ had completely gone. Ann is one of the most caring compassionate practitioners I have ever met and extremely knowledgeable. Ann comes highly recommended.
A.R, Woolton
Migraines
I had been suffering from migraines for years until I was fortunate enough to be introduced to an amazing Acupuncturist called Ann Gilbertson ,was dubious at first as I had never tried Acupuncture before however after six treatments in 2013 I have never looked back. Amazing is all I can say and would not hesitate to recommend the treatment Ann gave me. I have never suffered from a migraine since !! Thank you Ann.
Y.K, Allerton
Hot Flashes
I had a course of six treatments with Ann, suffering with severe sweats after a consultation Ann explained that it could be due to hormonal changes .I was approaching the menopause my periods were irregular, the night sweats were the worst, my bed clothes were soaked each night. These awful hot sweats would wake me during the night .Ann explained that sometimes symptoms can get worse before they get better. It did just as Ann had said it would, for a few days, after three sessions the sweats were greatly reduced by the end of the treatment they had almost stopped completely .The Acupuncture treatments have been so effective that I can't recommend it enough.
M.C, Aigburth
Shoulder Pain
I wish to draw your attention to the excellent treatment I received from Ann Gilbertson, Medical AcupuncturistLic.Ac, who relieved me of my suffering from a severe shoulder pain .The problem was so acute that I could neither move nor raise my left arm above my head. The pain was so excruciating and after trying various pain relieving tablets, which did nothing to improve my pain, I visited my doctor who referred me to a physiotherapist for treatment at my local hospital .After a course to physiotherapy treatment I felt that the situation was no better and having known Ann Gilbertson for a number of years, and of her practising acupuncture, I decided to ask her to see if acupuncture would help to improve my condition. Ann began by explaining how acupuncture works, how the nerves of the body are stimulated to relieve pain, and best of all I would not feel the needles as she inserted them into my body. To my astonishment, almost immediately after her treating me, my pain began to ease and I was able to raise my arm above my head once again. My treatment by Ann was carried out during May of 2012, and I can say quite truthfully, that I have not suffered any problems with my shoulder injury from that time to this. In closing this testimonial I can categorically say it is my opinion that Ann Gilbertson is both a dedicated, thorough and extremely professional first class Medical Acupuncturist.
A.E, Aigburth
Cosmetic Acupuncture
I have been a patient of Mrs Ann Gilbertson for nearly three years and I cannot sing her praises, nor the merits of Cosmetic Acupuncture, highly enough. I have always been incredibly selective and particular over which beauty products and treatments I use, and, with regards to new- fangled or "quick-fix" treatments, highly sceptical and dismissive. After suffering a severe allergic reaction, my skin and its overall condition had taken the brunt of its toll. Having had a good complexion for all of my life this had left me quite down-hearted and low-in-spirits, when I came across Ann Gilbertson's advertisement for Cosmetic Acupuncture. Friends had recently recommended the benefits of medical acupuncture to me, thus intrigued, I telephoned Ann. During the telephone conversation, Ann explained to me the procedure, the amount of treatments recommended and the cost. Unperturbed and curious to find out more, I booked an appointment/consultation .During the first visit we went through in depth my recent medical history. Ann explained that it is best to treat for an underlying medical complain that may be affecting the skin and hamper the Cosmetic Acupuncture result at the same sessions. It was also explained that I may not see a result until after a couple of treatments. I was immediately struck by Ann's knowledge, professionalism and dedication towards her patient's . After the first treatment I immediately saw results, my skin tone was brighter and glowing, the whites of my eyes were clear and finer lines had disappeared. My overall sense of well-being was greatly improved and my spirits lifted. Impressed, I completed the recommended course of treatments and cannot believe the results achieved. My face is once again sculpted and lifted, my lips are fuller, my overall skin tone is clearer and even, my pores and lines have diminished and my eyes have not stopped shining. I regularly go for a top-up treatment as and when needed, but the overall results have lasted well and top-up treatments are every few months. Family, friends and strangers alike have commented on my skin and how youthful it is in appearance. My lips areamazingly firm and plump and I strongly recommend a treatment just on the lip area before a special occasion.
Since I began Cosmetic Acupuncture treatments, I have noticed, particularly In London, more beauty centres offering Cosmetic Acupuncture. However, none include with their treatment the medical aspect that Ann does. Ann has impressed me greatly from day one with her knowledge, professionalism, warmth, kindness and dedication and the results achieved by having Cosmetic Acupuncture are incredible. The amount of compliments I now get on a daily basis is remarkable and all thanks to Ann.
I strongly and truly recommend both Cosmetic Acupuncture and Ann to the highest degree.
E.B, Grassendale
Smoking Cessation Programme
I started attending acupuncture with Ann 5 weeks ago to help me give up smoking, something I have done all my life, and also for long term chronic back pain from an injury to the low lumbar muscles years ago. Since starting, the acupuncture has enabled me to cut down from 60 cigarettes per day on a sliding scale after each treatment. Today, I stopped smoking.
I have tried all other treatments to help me give up the lifelong habit including hypnotherapy, NRT, and stop smoking courses. Acupuncture is the only thing that has enabled me to do this.
Ann has been helpful, supportive and has made me feel totally at ease with my introduction to acupuncture, as I had no idea what to expect or what it was about.
It is painless and the needles that remain in place between sessions do not feel uncomfortable and carry on working between sessions.
My back pain has been the scourge of my life for 20 years, and with hot stone massage treatment my back is much better. Any strength of painkillers and physiotherapy over years has done nothing to help the ache and spasms in the muscles, just given a lot of side effects.
I attended massage once previously for my back a long time ago and could not walk for 2 weeks after it I felt I had been battered. The massage therapy I have had with Ann has been heaven and the stones give deep heat, I have left the session with a range of motion and movement in my lumbar area that I haven't had since young. I am also having acupuncture for my back problem.
I would recommend Ann and acupuncture and massage to anybody wanting to give something up, for real pain relief, for health conditions and for general well-being.
John Plunkett, Liverpool